Stage 2, Kingston Rhinecliff Bridge to the Mid-Hudson Bridge, 19.8 miles, July 26, 2012,
Swimmers: Grace, Rondi, Lisa, Janet
Today started out much like yesterday: cool, grey skies and peaceful, green landscapes. We splashed under the Kingston Rhinecliff Bridge after an early morning shuttle to the start by the NYS Bridge Authority and Launch 5.
The current took a couple of hours to pick up, but we had a gentle tail wind that rolled us along past Kingston and Rhinebeck for the first few miles. I found it hard to get going, and it was only when the current picked up that my engine started to rev and I stopped feeling like a rusty old car. Today the cloudy skies were a little too somber for my liking, plus I didn't like their threats to darken and make things more blustery. There were some beautiful long, peaceful stretches that included views of passing barges and the Esopus Meadows lighthouse.
Four hours into the swim and approaching the big bend into Poughkeepsie, adjacent to the home of Franklin Roosevelt, the tail wind and current really picked up and we were flying along. I stopped and took a big feed and then proceeded to bonk. It took a lot to summon myself back to pace and complete the final five miles. I think we all found today tough, though there was no question we weren't going to finish. It was just a very long stage.
Today's Scenic Hudson prize goes to Lisa Neidrauer for her fantastic swim.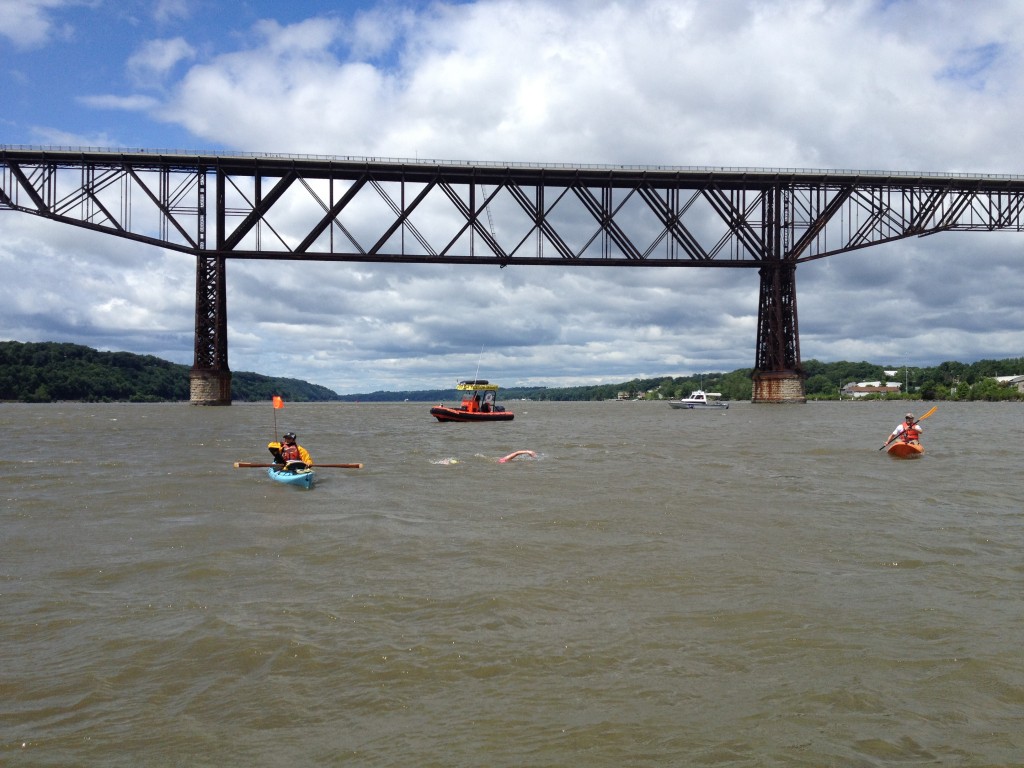 And a big thank you to all the amazing, supportive and helpful volunteers: John, Patty, Ryan, Terry, Suzie.