Exactly a month ago I was stroking and kicking through my first ever marathon swim. I swam a whopping 18.3 miles, more than double the distance I've ever swum at once.
Somehow I never get to train properly for my races. Not because I can't get serious about the training but there is just always something in the way – an injury, crazy workload (same reason I didn't get to sit down and write this right after my swim – a month ago); limited time, money or both. 8 Bridges was no exception even though I did get to squeeze in 3 2-milers and a bunch of 20-60 min training swims. I was more prepared than for any other races I have ever done, but would it be enough to take me through 18.3-mile swim?
I picked Stage 1 for all the wrong reasons – not because of the distance and my previous experience, but because I had friends living 'just' an hour drive away from the starting point so I could have a place to stay. I practiced my nutrition in a 1-hour swim trying to chug down a quarter of a 20 oz bottle, not a 4-hour swim with feeds like David Barra recommended.
But here is a good and bad thing about open water swims – ready or not, but the daycomes when you better take your clothes off and jump in the water and do the best you can. And so I did, we all did. Some swimmers starting their 7-day journey down to Verrazao Bridge, some, like me, doing their longest ever race; all determined and ready to push our limits.
Jump in, fix your goggles, find the turquoise kayak. 10,9,8,7… GO!!!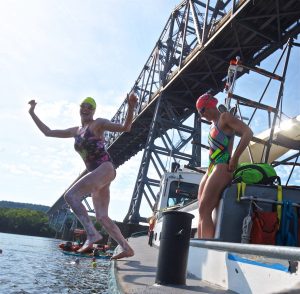 The next 30 minutes I was debating with myself if I should stop and tell Luis that I want him slightly behind, not in front of me – before this swim I never knew where I prefer my kayak to be. Now I know. I wouldn't have to pick my head up to check where the boat is if I don't see it when I breathe, but I could also see what the paddler is doing, see his face and expressions every time I turn. There was nothing bad in stopping for 30 seconds to communicate that to him.
For the first couple of miles I was enjoying seaweed all around me. I would pick it up with my fingers and try to play with, laughing (bubbling) when it would get on my head or stuck on my nose. There was so much seaweed!
I was trying to tell myself jokes but somehow I could barely remember any. I would definitely need to read more jokes before next race. I was trying to do math in my head but there was not much to do – I counted how long I would be swimming by the time I finish my first feed – 2.5 hours; second – 4.5; third – I didn't want to think beyond that point. The stage record was 4 hours 30 minutes, I knew it would take longer for me but a girl can hope, right?
First feed came, another one, some more – first bottle done. I mixed something different into the second one. Oh how yummy it was!!! Never knew I would be drooling over my feed in the middle of the Hudson! Worth to pick up the pace until the next feed, like if it would come sooner if I swam faster… ☺
My left shoulder started hurting after the 1/3 of the distance. I hoped it's just soreness and not an old injury and miraculously it stopped aching after another two hours of swimming. My shoulder probably knew I need it for a little longer.
I tried to look around as much as I could, saw some trees and houses on the shore. A lighthouse, other swimmers and kayakers passing by. I had wished I could be in a kayak or one of the support boats so I can see all the beauty of this swim. I would try to enjoy every stroke and the view coming with it for a bit and than I would put my mind back in the water, pick up the pace and just swim trying to get the Kingston Rhinecliff bridge to come sooner.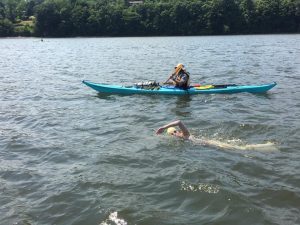 I knew from reading past blog posts that me seeing the bridge didn't mean I'm close. But when Luis told me we are 2/3 way there I asked myself 'What??!?!!' I knew it was too good to be true but I couldn't hide my excitement. Of course the current wouldn't allow it to be that easy. Only after another 2-3 hours of swimming, dealing with back pain (was good to learn later that it is normal to experience pain in a lower back on longer swims) I got in the shade of the bridge, swam all the way to the south end of it and rolled into a ball to stretch my back. How good that felt, finally!
When I was signing up for this race I had no idea how much it is going to mean to me. The burning feeling inside, the sense of accomplishment – it feels like the door opened into something wonderful and new. As if I was able to do this is there really something I can't do?!?? Swimming the last mile, I thought, "Why do I do this in the first place? It's hard, painful sometimes and it takes so much time out of our precious lives. Why can't I be like my friends spending all day in front of the screen and playing video games instead?" A couple of days later, after all the feelings settled down I knew the answer. Because without water, without what I do, I wouldn't be fully living.
Huge THANK YOU to Rondi, David and the rest of the 8Bridges crew, you did terrific job organizing this event, and I really hope you'll do many many more!
Thank you to my amazing kayaker Luis for handing me feeds, water and keeping my spirits high. I don't know if you saw me smiling while I was swimming but here and there, for a great part of the distance, I was 🙂
Thank you to my amazing boyfriend for always supporting me no matter what kind of crazy things I do.
Thank you to all my swimming students for your stories, inspiration and helping me to make this happen.
It was my first real marathon swim and I know there will be many more to come.