So I've decided to write about my experiences – but first a note of thanks to Rondi, Dave, Alex and the rest of the NYOW Swim Family – thanks for putting on such a great event and for providing great support, energy, enthusiasm and an awesomely supported swim course!  While this was my first NYOW event, they greeted me like only an OWS enthusiast and family member could – with warmth and smiles – which was great since I was so nervous.
Nerves you ask?  So I am not new to OWS – I swim with WaveOne and Denis Crean (double crown swimmer with Manhattan and last year Catalina under his belt) in Washington DC, where from April to Oct – we swim in the Potomac River where the water seems to be perpetually 85 degrees.  And I love that.  I am a warm water swimmer with no natural insulation and I love swimming in water the consistency of split pea soup (I know – awful graphic image – but welcome to the Potomac River).   I have swum the 9 mile Ocean City, MD OC Games swim in the Atlantic Ocean (with a wetsuit and fairly warm ocean temperatures of 75 or 76 degrees) and the very warm (77 degree) 12 mile Lake Travis Swim in Austin TX, along with 7 years of open water swimming at 10K and other distances – but all in very warm water.  I have also done Tiburon in San Francisco Bay in the mid 60 degrees but that was only 1.2 miles and I was in a wetsuit and had a thermal cap.  So I knew I could do a 13.2 Mile (stage 3) and 15.2 mile (stage 4) distances – but could I do it in 70 degree water and do it back to back without a wet suit?  Denis developed a 65 mile training program for me and I was pounding out practices of 3-4 hours per day after work, 5-6 days a week for almost 8 weeks – but all in pools at 80 degrees.  I had the distance down pat – after Denis' training plan, I felt like I could swim forever (thanks Denis for endless BI training plans!).  But could I take the cold.  In the few practices in cold water, I start shivering and can't stop.  My wet suit sadly was my security blanket.  And I had to decide, if I used it to ensure I finished, it would not count.  But if I didn't use it, then there was a real risk that the cold would defeat me and I would not be able to finish.  I ditched the wetsuit and committed.
I know Denis has drilled into me, OWS is not as much a physical challenge, as much as it is a mental and emotional challenge.  And so lots and lots of cold showers, a swim camp in NC in early May with 69-70 degree water for 4 days, and a few trips to the Chesapeake bay to swim in 73-74 degree water was the limits of my cold water acclimation – not nearly enough – but I was bound and determined to make every mile.
Stage 3 dawned with glorious sunshine the entire day and 71 degree water (I think) that while cold, didn't take my breath away.  My coach Denis was my kayaker for Stage 3.  I could hardly believe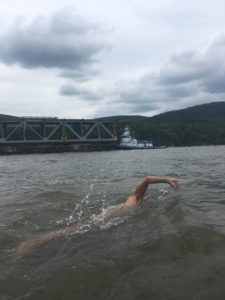 that at about 4 hours I could see the bridge – asking Denis – is that really the finish line?  I am a 30 minute miler so I had anticipated swimming for 7 or 8 hours.  At 4:40 I crossed under the Newburgh Beacon Bridge smiling from ear to ear (at a 21 min/mile – thanks to the river and current gods and a nice tail wind the entire way).  And not cold or shivering.  I focused on the sun rays warming me to keep me focused and warm in spirit throughout the swim.
Stage 4 – as you've read by now – a tale of two swims.  The day was overcast – no sun to warm me.  And a new kayaker – Manuela, who had the greatest sense of humor – as Denis was paddling for another team mate of mine – Anita – who was doing Stage 4 with me.  The first half of the swim we had the same wind and current gods for the first 7 miles or so and while it was defintely colder without the sun, the water was supposed to be about 2 degrees warmer than the Stage 3 –  it didn't feel that way.  And Manuela kept me in the channel most of the swim to take max advantage of the current.  Just as I swam by West Point, the winds shifted and I had a head wind for the rest of the swim.  It was not a nice head wind.  It slapped at me and it seemed with each passing mile, my body ached and my stroke count was dropping.  Again around the 4:30 mark, I could see the next finish line – Bear Mountain Bridge.  But each time I came up for air, I only ended up swallowing more and more river water.  Each breath I tried to take – more river water swamped me as waves of 12-18 inches seemed to be bound and determined to to keep from getting a breath.   I know how to swim in rough water, having swum in the Atlantic Ocean for my whole life.  But this was unrelenting, mile after mile.   I had swallowed so much river water that I was throwing up several times and suspended feeding at about the 4:30 mark.  I knew I only  had about another hour to go, and not feeding was not a smart move, but anything I tried to swallow just came right back up.  I did one or two GUs, but that was it.  At one point it seemed that the bridge was not getting any closer, but was actually getting farther away.  I could see the current helping me down river and I could see progress along the shore line, but the bridge and my mind was playing terrible tricks under duress.  With my head back down, and for the first time feeling waterlogged and that I had water filled up to my esophagus – a feeling I had never experienced before – I began to question if I would finish.  With a mile left to go, I had decided that the river and wind gods were determined to not let me finish and that no matter how hard I tried, the river and wind gods were going to stop me. I remember asking Manuela at one point, if she thought I was going to make it and finish, because I didn't think I could finish.  She looked at me, said "ah, probably not"….then broke into a grin and basically yelled at me to keep going, not give up, told me not to be silly, that I was making great progress, and that I was almost done…or at least that is what my head told me she said…..
It was not looking good, I was cold, angry at myself for essentially swimming to the 14 mile point, feeling like I must be far over my 30 min mile pace, and then thinking that I needed to give up.  But Manuela continued offering me encouragement, I switched to breast stroke to calm my nerves and get some air, and then made a final push going back to free because I was not going to cross the finish line doing breastroke.  At 5:40 I crossed the finish line with the finish boat and Manuela cheering me on.  Manuela asked if I could swim to the finish boat, but told her I needed help.  I couldn't feel my hands or feet, had blue nail beds, and just wanted to be out of the water.  the Jet skier swooped in, and hauled me to the finish boat.  They tried to explain how to use the ladder and I just looked up and said I needed help.  One swimmer jumped to the fantail, and he and the EMT pulled me out of the water.  I was shivering so badly I could not control it – I had swimmers swarming me and covering me with towels, caps, aluminum survival blankets and finally quilts.  I had never felt so cared for and protected in my life, from a group of strangers who I had barely met.  That is what the OWS family feeling is all about.  And what I couldn't get off my face, was a silly shit eating grin that I had at having accomplished 28.4 miles in 2 days in cold water without a wet suit.  Oh yeah and my mile pace:  22 min/mile – only about a minute slower per mile than Stage 3.  I realized once I figured out my split times, that it wasn't the river gods who were trying to stop me after all – it was only the wind gods.  The river gods had carried me along just like they had done the day before.  And I then I silently thanked the river gods (but still to this day curse the wind gods!).  Tom Hull