Wind Against Current is the name of an excellent blog by kayaker Vladimir Brezina and Johna Till Johnson. Today these words played over and over in my head as we battled 15 mph head winds with gusts of 30 mph, against a 2.6 knot ebb tide.
There are so many times when I have looked at the Hudson north of the George Washington Bridge and marveled at how flat and inviting it looked. Then there have been times when the wind and chop are up and I have thought that I would never want to experience swimming in those conditions. Today I did swim in that chop. It was a washing machine of chaotic, unorganized waves and strong winds. And, as much as it was tough, I was comfortable and fine and I even had a good time — a small personal achievement for me.
We actually had seven chicks in the water today as Louise Twining-Ward was a late entrant. Louise, Caitlin, Capri and Kathleen headed off from the Tappan Zee Bridge with their boats and kayakers at 10:30 am. Grace, Patty and I followed an hour later. As soon as we got started the southwest wind picked up and the Palisades channeled the wind like a wind tunnel. As the current picked up we started bouncing around.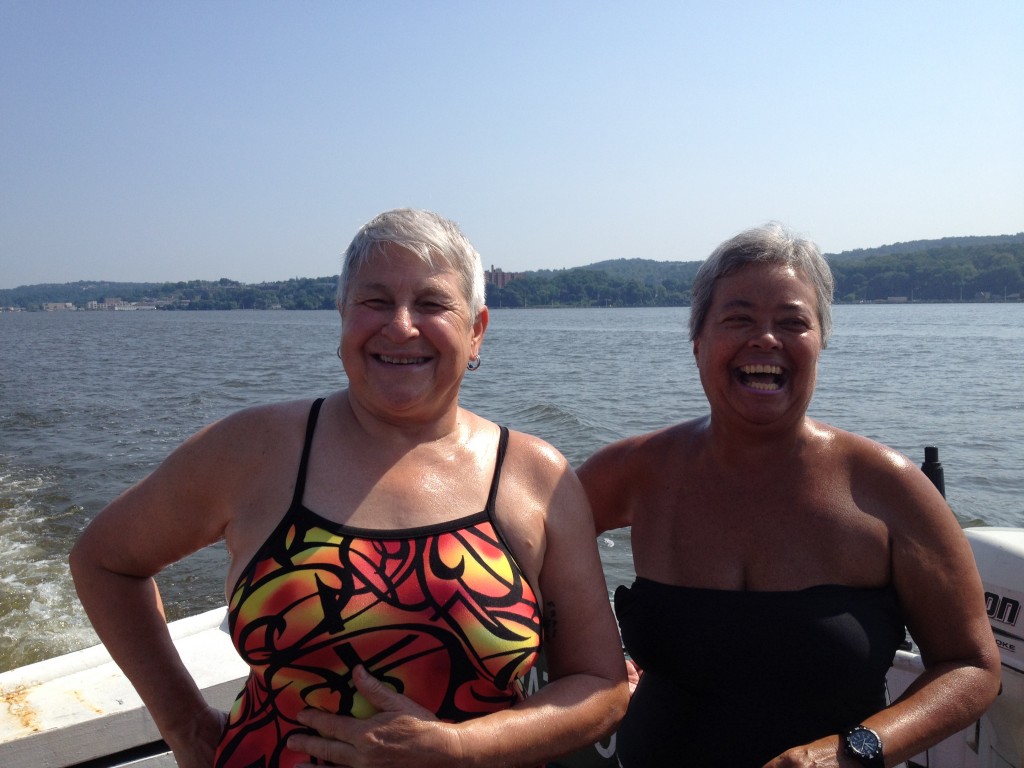 Caitlin and Louise, who stayed together for the most part, had a great swim and thoroughly enjoyed the choppy conditions. Capri and Kathleen swam strongly and were looking to finish, but were both afflicted by burning eyes due to a reaction with some anti-fog goggle spray they used. Kathleen ended up at the emergency room, while Capri, swimming with eyes closed the whole way, got within a quarter mile of the George Washington Bridge when the flood pushed her back. Patty, Grace and myself all finished within 15 minutes of each other under the record time from last year. Patty took home the Scenic Hudson prize for her longest swim to date, and for swimming an extra few miles to support Capri. It was another day of amazing efforts by all.