By Liz Morrish
Stage 3: Mid-Hudson Bridge to the Beacon-Newburgh Bridge: 13.2 miles
Perfect conditions
There was more moisture and warmth in the air today, less wind but still a lot of cloud. The river was glassy and calm. Ideal conditions for swimming, if unusually cold. "What's the temperature?" Rondi shouted down a radio to a kayaker. "67.2" (that's 19.5 C) came the reply, "and I waited until the swimmers were out of earshot until I told you that!" Nobody wants to send swimmers on their way with negative thoughts or fear of the cold. For David Barra, conditions in the water are always 'perfect', and that's the message you want to convey to keep spirits high. It seemed to work for Katrin Walter, who came out early yesterday because of low temperature, was back today, and feeling optimistic. Also cheery was Harry Finger, not just because it was his 60th birthday, but also because his sore shoulder was feeling a lot better.
Rivalries, new and old
This event has rekindled some old, but friendly, personal competitions. In one case, it is an ancient rivalry – Jamie Tout and Ed Riley have been racing each other over many decades. "What makes two old Dreadnoughts keep turning up", said Ed, roaring with laughter. He is an easily identifiable figure both on land, with his white beard, and in the water, where he cuts his swim cap down to a bandana. Jamie stands out with a full sleeve of arm tattoos which he makes sure to cover in sunscreen.
Mark Spratt is a stage 3 swimmer and he was pleased to see Spencer Schneider at the Poughkeepsie Marina. They have met each other at many long swims. Spencer is also a team mate of his fellow Indianan Stephen Rouch.
Straight into the lead today was a one-stage 8 Bridges swimmer, but winner of the recent 2 Bridges swim, Diego Lopez of New York. How would he hold out against the Stage 1 and 2 winner, Stephen Rouch? Would this new entrant disrupt the previous days' 1-2 of Stephen Rouch and Graco Morlan?
Rivalries really don't endure beyond the landing dock. They are folded instantly into strong friendship based on shared experience and respect. Rondi agreed, reflecting on her own 8 Bridges swim in 2012 when she swam alongside Grace Van Der Byl for 120 miles. "It's like she became my sister, when you experience all of that together".
The most significant thing about this group is the sense of community. The Brazilian group of Marta Izo, Flavio Toi and Harry Finger (who has his 60th birthday today!) have traveled together and provided mutual support over many years. Others enact a teasing, joshing contest each day. Abby enjoys passing just about anybody, but especially Ed Riley, when she can. Not today, though. She enjoyed a touching simultaneous finish with Marta Izo.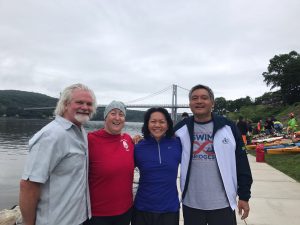 Ed Riley, Abby Fairman, Marta Izo and Flavio Toi
Towards the end, we saw Stephen Rouch start to move on Diego Lopez's lead with about 4 miles to go. Two miles from the bridge, they were neck and neck, but Diego had to let his lead go and Stephen surged ahead. The two had not met before, and so today, a new rivalry was born. It was lovely to see them congratulate each other the deck of Launch 5. Third home today was Mark Spratt; 4th was Flavio Toi, delighted to come in ahead of Graco Morlan. 5th was Anael Astic, followed by Ed Riley who was just ahead of Abby and Marta.
This was the shortest stage and there were some superb views along the way. We were joined in the wheelhouse by Charlie who was helping out with navigation and he is also knowledgeable about local history and landmarks. The Tilcon cement works at Clinton Point is hardly a thing of beauty, but the river is wide and still at that point, with the mountains in the far distance – relentlessly beautiful, as Karen Throsby said when she swam in 2015. I have to agree.