Last Saturday we did a second test swim of the Cold Spring – Bannerman's Island 10.5K Return.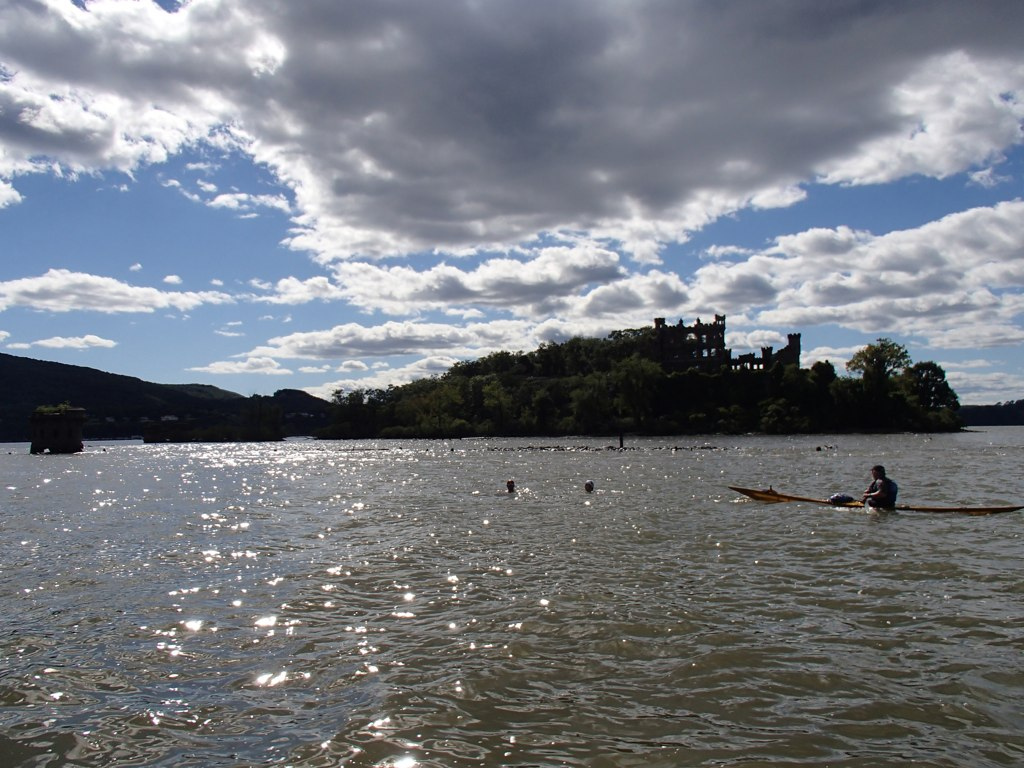 This time it wasn't just me and a kayaker, it was a party of people: David and his RIB Agent Orange, three paddlers, and nine swimmers. The idea was to start swimmers of different speeds on the flood tide at different times so we all converged at the island when the tide was slack. Then we'd return to Cold Spring on the ebb. The swim was calculated to take between 2.75 and 4 hours depending on swimmer speed.
As we motored down the river in AO, I was surprised how rough the water was in the Hudson Highlands where we would be swimming. Flags on poles were barely being lifted by the wind, but the river was full of white caps. The forecast was for winds out of the north at 12 mph; nothing serious but enough to churn the water as it was pushed against the flood current.
Because of the head wind we started the four waves of swimmers 10 minutes earlier than planned. As soon as we got out of the seclusion of Cold Spring and into chop it was clear we should have all started at least 30 minutes earlier. The head wind negated any tidal push. In fact we were crawling along while getting pushed backwards.
John who was paddle boarding beside me had a pretty rough time in the bounce and retired after a few miles. I wish at that time we had tied the board to one of us and swam together as we had planned to do after we got to the island.  I joined another group of swimmers: Janet, Hannah, Eli, and Willie with Andy kayaking. It was great fun swimming with so many friends, taking feed stops together and having a chat while doing so – feeding is slow with four swimmers and one kayaker. It helped that the water temps were in the mid-70s.
We reached the Island after two hours and had to push hard to make our way around it as the ebb current had started 30 minutes earlier. Once around, the water calmed down and we leisurely swam back to Cold Spring with some more chatting and scenery stops. Capri, beaten down by swimming against the ebb current below Breakneck ridge, had gotten out, so Gary, her kayaker, joined our group and Eli, Willie, and I went on ahead. We finished in 3 hours 20 minutes.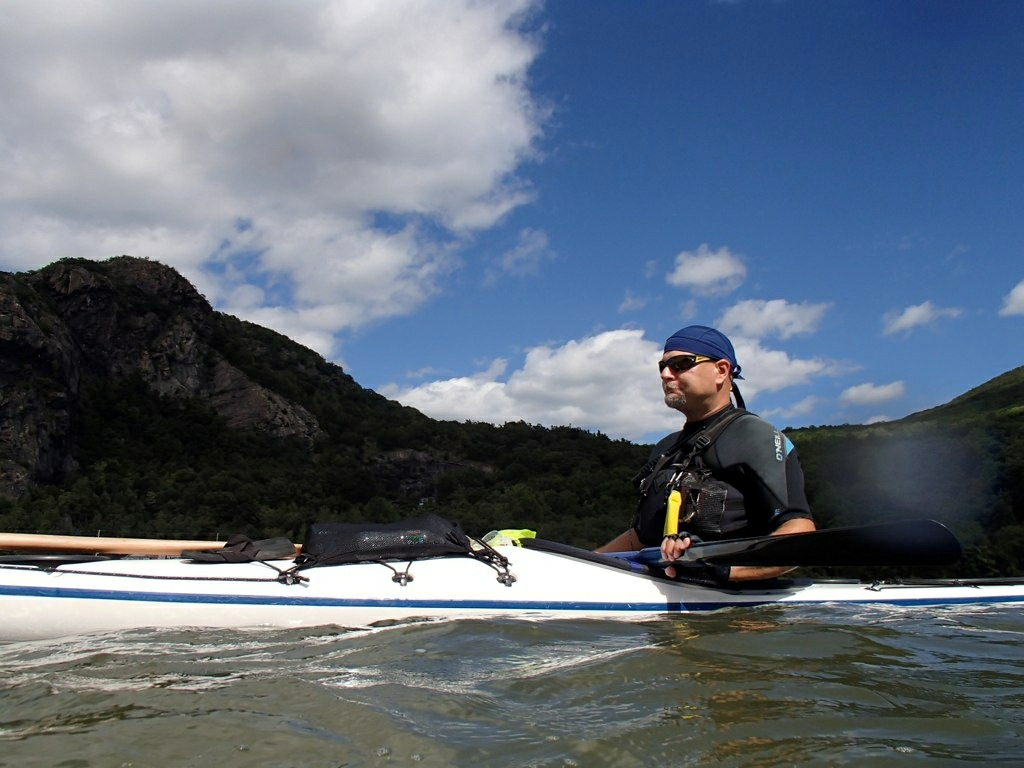 I was happy that Caitlin and Ethan also made it around the island. They had to battle a stronger ebb as they were about 45 minutes behind us. They completed the swim in 4 hours 20 minutes.
The swim certainly didn't pan out as planned, but there were some good things we learned in the process.
 It's really fun to do this swim with a group of friends, with ample chatting and scenery breaks. This has to be one of the most scenic parts of the Hudson. So why not make this swim a tour rather than a race. Swimming for speed is permissible of course. On the other hand you can take stops, say at little Stony Point, an inviting sandy beach half way to the island, and at the island itself where there is a great ruin that looks like an ancient castle.
The flood tide between Cold Spring and the island is weak and unreliable in moderate winds. This requires more investigation but probably means getting swimmers to the island with plenty of time before the ebb begins.
In light of all that we plan to offer the inaugural Bannerman's Island Return (Tour) on September 1, 2013 or Labor Day weekend Sunday. So mark your calendars!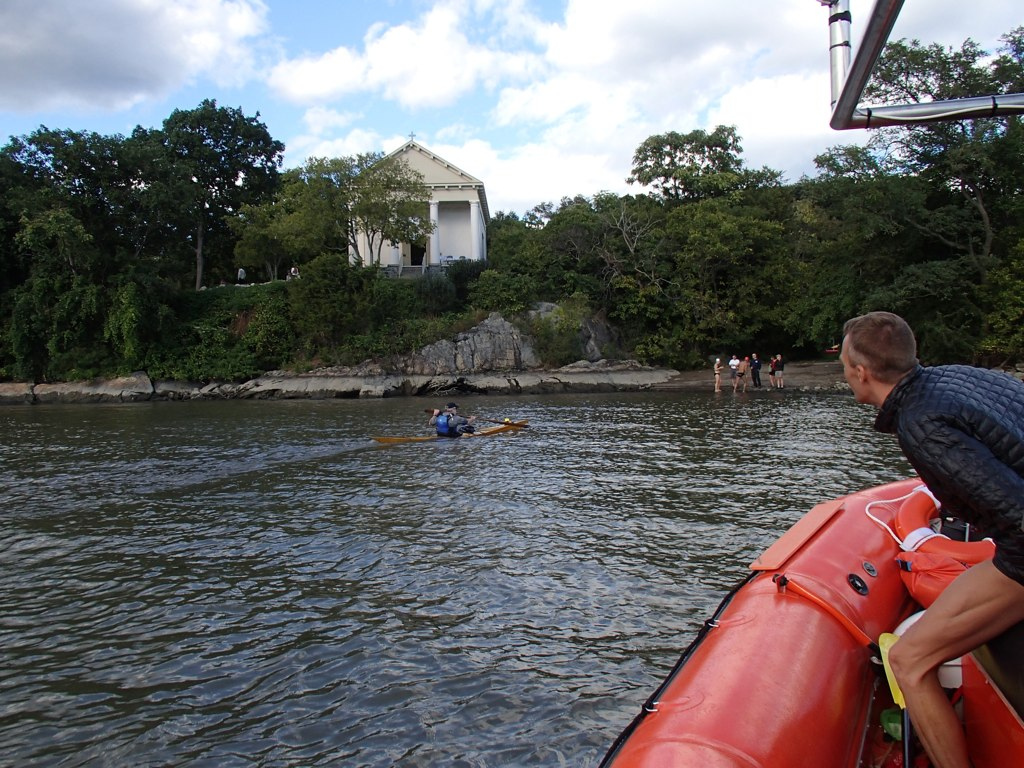 Some links from the swim:
+  Flickr photos and videos (below) from Capri:
Ethan and Caitlin – heading to Bannerman Island
http://www.youtube.com/watch?v=JyROfcTow2U
yes! Caitlin and Ethan – make it to the north side of Bannerman Island
http://www.youtube.com/watch?v=S4O5ZdOmtEo
Caitlin and Ethan pass Breakneck
http://www.youtube.com/watch?v=gotcgkjsWH8